Last Day of 2014! Only several hours to say Good Bye to this year and to welcome the New one, recharged with new hopes and expectations 🙂
… also time to open my Good things Jar and see what I've marked as good things that happened to me. There was a wonderful post with this idea I saw in the end of last year (can't remember the author) and I decided to try it and bought my jar. I had to write down all: Surprise gifts, Accomplished goals, LOL moments, Memories worth saving, Days of Happiness and all the other Great stuff. As it looks my jar doesn't contain many notes, I'm gonna read them tonight in the last hour of the year which for me personally was quite hard and harsh, disappointments and problems were more than the happy moments and people that let me down more than those that gave me a hand but …
I'm really happy I made many new Friends on G+ and want to thank each of you for sticking around, for your support and for being amazing in the way you are! Hope the New 2015 is a better one for all of you, healthier, happier and more successful and full of amazing moments! Happy New Year's Eve everybody and a very Happy New Year!
My personal wish – a Jar loaded with more notes in the end of next year and trying to learn to appreciate more even the small things and gleams of happiness 🙂 and to write them down for my jar!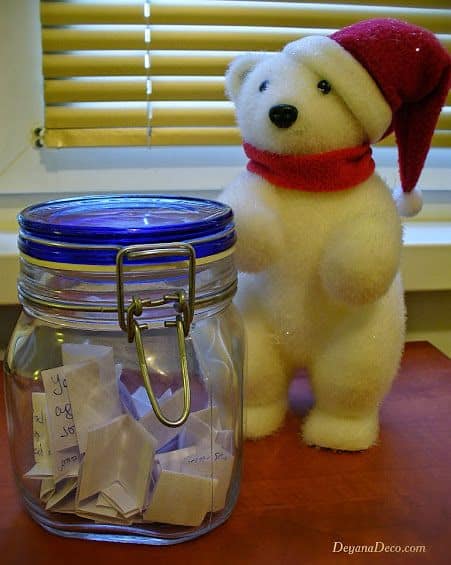 https://deyanadeco.com/wp-content/uploads/Last-Day-of-2014-F.jpg
300
845
Deyana Deco
https://deyanadeco.com/wp-content/uploads/LOGO-DD-WEBSITE.svg
Deyana Deco
2014-12-31 12:03:57
2015-01-01 18:01:46
Last Day of 2014